Attention sewists, embroiderers, 'sergers' and quilters...

Are you confounded with all the sewing threads available out there in the wide, wide world? Cotton, Polyester, Nylon, Rayon, Perle Crown, Crown Perle, Thick threads, Thin Threads, Glow in the Dark Threads, Metallic threads, Twisted threads…. the list goes on and on and on. Which can be used for what, used when, used why? How to choose???
And then there are needles! Types: Universal, stretch, quilting, topstitch, denim. Sizes: 90/14, 75/11, wing, 120. Cutwork needles; Felting needles. What does it all mean? How to choose which to use? Using the correct needle can actually solve a lot of the problems sewists encounter.

Is it enough to want to tear your hair out? AARRGGHHH!!!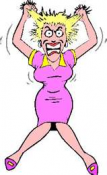 Oh, and stabilizers...but that's another class for all you embroiderers. This class touches on them just a little.

In this class get answers to all (or at least many) of those frustrating questions.

Questions about the class? Contact Susan at 704-674-4391 or by email at debonair2@bellsouth.net.
Note: We will not be taking a lunch break but do feel free to bring something to munch on during class.

About Susan: She has been sewing her whole life since age 7, quilting since age 14 and embroidering by machine since the 1980s. In addition, she is a certified Sulky instructor and has trained with Pfaff and BabyLock.

Class size: Minimum 5; Maximum 12

Susan has revised her popular Needles, Threads and Stabilizers class, by splitting it into two classes. This class, Needles and Thread – Stuff You Need to Know for Great Stitching is one of the classes and is of interest all sewing enthusiasts…crafters, garment sewers, quilters, sergers and embroiderers. The other class is really for embroiders and is all about stabilizers, embroidery hooping techniques, design positioning and more. Look for this class, Some Embroidery Basics, Stailizers and Hooping. It is the REST of the Stuff You Need to Know to Ensure Great Stitching.