The quilt is made up of 7" log cabin squares. The tree is folded logs and the background is flat logs, all sewn to muslin and batting foundation squares. The blocks are quilted as you create the blocks.
Sashing strips join the log cabin squares together. The top ornament is created as a ?stand alone applique, either on the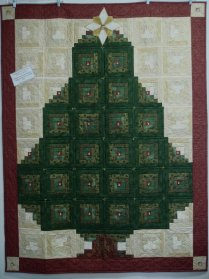 sewing machine or in the embroidery hoop. It is sewn to the quilt after the borders are added.
Borders can be quilted and then added to the quilt with sashing strips or the borders can be added to the quilt and then quilted. Both techniques will be shown in the class. Borders can be quilted in the embroidery hoop, with a presser foot on the sewing machine or free motion.
Embellishments can be added to decorate the tree - beads, crystals, ribbons, lace, decorative buttons, small bows, etc. (The quilt on display at the store is embellished with crystals.)
The finished quilt size is approximately. 51 x 66 inches. It can be made larger by simply adding wider, or more, borders. The quilt center (no borders) is about 42" x 56", a nice size for the center of a queen size bed.
In addition to instructions and patterns for creating the quilt and quilting it, for those who have embroidery machines, digitized designs for the border holly leaves, for a geometric quilting design for the background blocks and for creating the top ornament in the hoop are included with the class.

Click here for the Materials and Supplies List

Instructor: Susan Nelson.? Questions about the class? Contact her at 704-674-4391 or debonair2@bellsouth.net